Double size price from
Custom Made

Australian Made

10 Year Warranty
Frequently Asked Questions
Where is this sofa bed made?
This sofa bed is made in Sydney by experienced craftsmen to our exact specification using only quality materials.
What is your warranty on this sofa bed?
This sofa bed carries a 10 year warranty on its frame, a lifetime warranty on the premium Dunlop seat cushion foam (if used) and 3 year warranty on the sofa bed mechanism and mattress.
Does the price include piping?
Piping is great for accentuating edges of sofa and cushions. You can add self-piping (piping in same fabric as sofa) to any sofa bed at no additional cost. If you would like piping in another fabric, we will need a little extra fabric for piping. Please contact us for exact price.
Can I select fabric later?
Yes! Feel free to take your time choosing your fabric. You can either select "Decide later" or call our friendly staff to assist you further. You have up to a week to select your fabric without delaying the completion date; provided that fabric is in stock. Need more time? No problem! We can put your order on hold to help you select the perfect upholstery for your order.
Do you have fabrics other than those shown on the website?
Absolutely! We house a vast collection of fabrics in our showroom. Alternatively, you can select a fabric at the showroom of your local fabric supplier, such as Warwick Fabrics, Zepel, and others. Please let us know your address, and we can find the location of your nearest fabric showroom.
Can you send samples of the fabric I'm interested in?
Definitely! Please let us know the fabrics you're interested in, and we will arrange for the fabric samples to be posted to you.
Is online picture of this fabric exactly shows the colour I am going to receive?
Unfortunately, online images rarely show the exact colour of the fabric, as the colour will depend on your monitor settings, lighting conditions during photoshoot, website graphic compression, amount of shine in fabric that may distort the image, etc.
We strongly recommend viewing the fabric in person, before making the final decision.
Can any of the sofas be made as a sofa bed?
Yes. All you have to do is select a style of sofa that you like, and we can have it made into a sofa bed with a highly supportive spring mattress. Some models may require a small adjustment to fit the bedding mechanism. If so, we will notify you of any changes.
How comfortable and/or supportive are the sofa bed mattresses?
At Strictly Comfort, we believe that sofa beds should feel like real beds. That's why we use only the best spring mattresses, which provide the utmost support and luxurious comfort.
How are the mattresses different?
Our 4-inch spring mattress is our entry-level choice, perfect for unexpected guests, short stays, or young kids. Our 6-inch mattresses, on the other hand offer additional support, and are suitable for more frequent use by adults and seniors alike. Looking for a top of the line mattress? Our 6-inch mattress with a gel-infused memory foam comfort layer is just the thing for you.
I have very little space in my room; can I have this sofa bed without arms?
Many customers choose to have either one arm or no arms, so that their sofa bed will fit into a tight space.
Can I choose different legs?
Yes, we have a collection of over 40 timber and metal legs. Want more? There are over 100 more legs available in our extended collection, at an additional fee. Most sofa beds can be fitted with legs of up to 12 cm high.
Can I add piping or studs to my sofa bed to make it more unique?
You are welcome to add piping or studs to any of our sofa beds for that extra 'wow' factor.
Can I pick up this sofa bed from your showroom?
Yes, feel free to collect your new sofa bed directly from our showroom located in Cremorne, NSW.
Do you deliver interstate?
Yes, we deliver interstate on weekly basis. Please enquire via phone or e-mail for details.
Willow Sofa Bed
The Willow design is a beautifully crafted classic design, with elegant curves and a traditional skirted base. This sofa is perfect for everyday living space and includes supportive high back cushions with Feather Fibre filling, complemented with soft feather filled seat cushions.
This Sofa Includes:
Feather Fibre Back Cushions

Feather-Wrapped Seat Cushions (Soft Feel)

Skirted Base with Black legs
---
Approximate Dimensions:
2.5 Seater (Double): 182cm W x 95cm D x 95cm H

Back Frame Height: 80cm (dimension not including back cushions)

Seating Height: approx. 50-51cm H

Arm Width: approx. 14-15cm W

Sofa bed fold out length: approx. 230cm (from back of sofa to end of mechanism)
All dimensions are approximate only and is subject to change due to craftmanship.
---
Warranty Information:
10 Year Structural Warranty on Sofa Frame

3 Years Warranty on Sofa bed Mechanism and Mattress

12 Month Warranty on Feather Seat and Back Cushions
---
Personalise your Sofa:
To adjust our sofa or to add style modifications, please contact our team either over the phone (9953 5312) or via email (click enquire now). All adjustments may alter the look / feel and will result in a modification fee.

Your Sofa, Your Way
Contact us
to Select from a wide range of designs and explore our customisation options.
morestrictly

Select your Fabric

Proudly Handcrafted in Sydney
Custom made to order right here in Sydney, Australia.
morestrictly

Built to Last
All of our handcrafted sofas are backed by a 10 year structural guarantee.
morestrictly
This is covered against manufacturing faults. Sofa Bed mechanisms are covered by a 3 year warranty.

Select your Comfort
Our seat cushions contain Feather Wrapped filling with foam core, covered by a 12 Month Warranty.
morestrictly
Feather filling is a natural fibre requiring maintenance and will create a casual look. Feel free to contact our team to change to your comfort preference.
We offer the widest range of custom sizes in Sydney!
Contact us for more details.
or design your own
any length, any depth, any style
Can't find what you are looking for? Many more configurations available in store!
or design your own
combine fabrics, or add piping for an extra wow factor
Can't find what you are looking for? Many more fabrics available instore!
Total dimensions from back of Sofa Bed to foot of mattress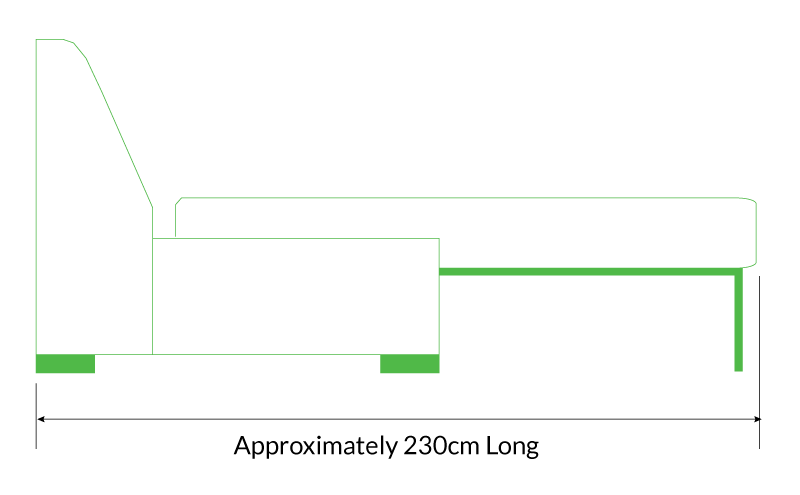 Mattress size dimensions (W x L x D) cm
| Type | 4'' Spring Mattress | 6'' Spring Mattress | 6'' Spring Mattresswith Latex Layer | 6'' Spring Mattresswith Gel Layer |
| --- | --- | --- | --- | --- |
| Single | 91 x 182 x 11 | N/A | 91 x 182 x 13 | N/A |
| Double | 132 x 182 x 11 | 132 x 182 x 15 | 132 x 182 x 13 | 132 x 182 x 15 |
| Queen | 132 x 182 x 11 | 152 x 182 x 15 | 152 x 182 x 13 | 152 x 182 x 15 |
Please note: All dimensions are approximate and subject to normal construction variances and tolerances.
Close

* cushions & accessories are sold separately