Double size price
Firm Support
Extra Space
5 Year Warranty
Frequently Asked Questions
How long does it take to receive this sofa bed?
It takes approximately 12 weeks to make this sofa bed.
Can I receive this sofa quicker than in 12 weeks?
Sometimes this sofa bed is in stock in limited fabrics and sizes. For the items that are in stock, the expected time of arrival is approximately 2-3 weeks. However, if this product is not in stock, it will take approximately 12 weeks to manufacturer overseas. Feel free to contact us on stock level and availability.
Do you deliver Interstate?
Yes we do! Deliveries outside of our normal delivery area (Sydney) will require more time to transport purchase goods to your location. Our Long Distance/ Interstate delivery team generally require an extra 2 weeks for delivery preparation and travel time.
What is your warranty on this sofa bed?
This sofa bed carries a 5 year warranty on the sofa frame and foam and 2 year warranty on the sofa bed mechanism.
Do you have fabrics other than those shown on the website?
Yes, This sofa comes in a range of over 30 fabrics of different textures and colours. Please contact us for more fabric options.
Can I pick this item up from your showroom?
Absolutely! You are welcome to collect this item directly from our showroom located in Cremorne, NSW.
Tamara Double Sofa Bed in Fabric
The Tamara Double Sofa Bed is one of the standout pieces in our 'Real Comfort' collection.
This sought after Belgian design utilises all of its sofa parts to convert into a bed, meaning that you do not have to find a storage location for leftover cushions when you have guests stay over.
Moreover, by reversing the seat cushions, you'll create a sleeping surface that is approximately 206 cm in length (this is quite long compared to a conventional sofa bed, which is 180 cm), giving you extra room to stretch out and relax.
The Tamara double sofabed comes in a range of gorgeous fabrics unique to the Real Comfort collection. Whether you're looking for something neutral or colourful, coarse or soft, we've got you covered.

Extra Leg Room
This range offers an extra-long sleeping surface, making it perfect for anyone who requires additional room for their legs.
morestrictly
The back cushions of this sofa bed sit snugly against the frame, allowing more sleep surface than with a conventional sofa bed.

No-Sag Comfort
A combination of durable posture slats and highly resilient foam provides consistently firm support and guaranteed no-sag comfort.
morestrictly
High density foam also minimises partner disturbance so that you can have a good night's sleep, even if your partner tosses and turns during the night.

Built to Last
This sofa bed is backed by a 5 year warranty on he sofa structure and 2 year warranty on the bedding mechanism.
morestrictly
This ensures that your sofa bed will withstand the pressure of everyday use and provide you with sustained comfort and support for years to come.
While this sofa bed only comes in standard sizes, many other models can be customised!
Contact us for more details.
or design your own
many more fabrics available instore!
Close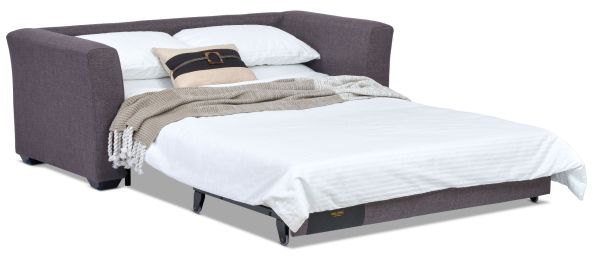 * cushions & accessories are sold separately