Seattle Drawer Storage Bed
Single size price from
Custom Made

Australian Made

5 Year Warranty
Frequently Asked Questions
Where is this storage bed made?
This drawer storage bed is made in Sydney by experienced craftsmen to our exact specifications using only quality materials.
What is the warranty on this storage bed?
This drawer bed carries a 5 year warranty on structure.
How far do the drawers come out?
The drawers extend approximately 35 centimetres from the bed – giving you great storage access without being a trip hazard.
Can I change where the drawers are?
Certainly! The drawer beds come in several types with varying configurations. You can choose between 1 large draw or 2 smaller ones, and the location of the drawers.
Do the drawers have handles?
The drawers are designed to be pulled out from the bottom, and do not require handles. However, if you would like, fabric handles can be added, allowing you to open the drawers with ease.
Would bedside tables get in the way of my drawers?
Absolutely not! Our drawer beds are specifically designed so that the drawers are not near the bedhead, leaving plenty of room for bedside tables.
Can I purchase a base without a bed head?
Certainly! All of our beds are available with or without bedheads.
Can this storage bed be made in less than 5 weeks?
If you need your bed in a rush, we have a special collection of fabrics which can be used to upholster the bed immediately, taking the lead time from 5 to approximately 3 weeks.
Can I select fabric later?
Yes. Feel free to take time choosing your fabric after you have placed the order for your storage bed. You have up to 2 weeks to select your fabric without delaying the completion date. Need more time? No problem! If 2 weeks pass, we will postpone your order to help you select the perfect upholstery for your storage bed.
Do you have fabrics other than those shown on the website?
Absolutely! We house a vast collection of fabrics in our showroom. Alternatively, you can select a fabric at the showroom of your local fabric supplier, such as Warwick Fabrics, Zepel, and others. Please let us know your address, and we will happily find the location of your nearest fabric showroom.
Do you deliver interstate?
Yes, we deliver interstate on weekly basis. Please enquire via phone or e-mail for details.
Seattle Drawer Storage Bed in Fabric
The Seattle Drawer Bed is a classy, understated bedframe that doubles as a convenient storage unit.
Bedheads can be made attached to the Drawer Base with the slide in method or can be made as Free standing behind the base.
It is available in a variety of configurations, and can be tailored to fit almost any space.
While it looks outstanding when upholstered in fabric, the Seattle drawer bed can be upholstered in any material, and customised to reflect your own personal style and complement existing décor.

Choice of Bedheads
With a wide range of bedhead options, we are dedicated to helping you create your dream drawer bed.
morestrictly
Browse through our
extensive range of bedheads
online.

Drawers on Any Side
Choose the optimal location of the drawers to suit your room.
morestrictly
With drawers on either side, storage is no longer a hassle for the everyday family.

Vast Fabric Selection
With more than 1000 fabrics to choose from, we are confident that you will find a material suit your space.
morestrictly
Our wide range of well-priced fabrics makes it easy to create a stylish look to compliment your room. Alternatively, you can choose to supply your own fabric, and we'll happily use it to upholster your new drawer storage bed.

Proudly Handcrafted in Sydney
This drawer storage bed is skilfully crafted to our strict requirements right here in Sydney.
morestrictly
Locally made beds not only give you the opportunity to modify and customise pre-existing designs, but also provide high quality comfort and support, with the added bonus of short lead times.

Built to Last
All of our handcrafted storage beds are backed by a 5 year guarantee.
morestrictly
This ensures that your storage bed will withstand the pressure of everyday use and provide you sustained comfort and support for years to come.
Custom bedhead heights are available for this storage bed!
Contact us for more details.
or design your own
any bedhead, any fabric
Can't find what you are looking for? Many more configurations available in store!
or design your own
combine fabrics, or add piping for an extra wow factor
Can't find what you are looking for? Many more fabrics available instore!
Close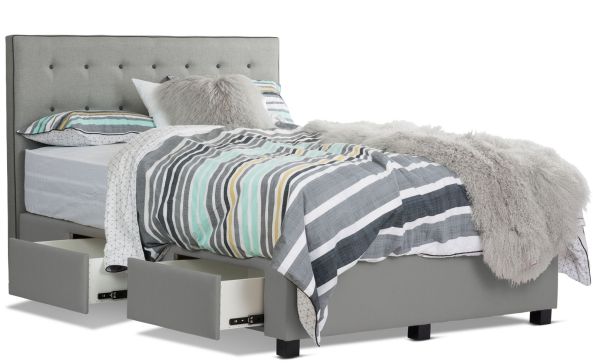 * mattress & accessories are sold separately