High Back Price From
Availability: 20-22 Weeks
Made in Norway

Custom Made

10 Year Warranty
Frequently Asked Questions
Where are our Stressless recliners made?
Stressless recliners are made in Norway by experienced craftsmen using only quality materials and state of art production process.
Are Stressless recliner chairs comfortable?
Our Stressless recliners are so comfortable, that they are exclusively endorsed by the Australian Chiropractor Association for an exceptional ergonomic design, perfect balance, and optimal back support.
What is the lead time for Stressless recliners?
If you have ordered a custom product to be handmade from Norway, it will take approximately 22-25 weeks for it to arrive and be delivered. In the event you would wish to have one sooner, Stressless does keep a range of our popular recliner models stocked in Sydney, which would take approximately 2-3 weeks. Please contact our team or visit us in store to find out about our stock.
Where can I view the largest range of Stressless recliners in Sydney?
Our Stressless by Strictly Comfort showroom is the largest Stressless showroom not only in Sydney but Australia wide. This allows for more models, materials, and configurations to be on display to help you to make the best decision and find your perfect recliner chair.
What is Stressless warranty?
All Stressless recliner chairs have a 10-year warranty on their structural frame, a 5-year warranty on electrical parts and a 2-year warranty on leather.
Can our recliner chairs be upholstered in fabric?
Our Stressless recliner chairs can most certainly be upholstered in fabric. We have a vast collection of both fabric and leather to view in our showroom or on our website.
Can I purchase a recliner chair without a footstool?
Whilst footstools offer an additional level of comfort for our recliners, you can certainly choose to purchase the chair individually without the footstool.
Are the Stressless recliner bases available in different colours?
Yes! We have a wide range of timber stains and metal finishes available to choose from, which will perfectly match whatever leather or fabric you decide.
I'm not sure if this recliner would work well in my room.
Stressless@Home app is perfect way to check what your new recliner will look like in your room. Available from both Apple App Store and Google Play Store, Stressless@Home app features an Augmented Reality, that allows yous to virtually place Stressless recliners in your room.
Do you have any Buy Now Pay Later options?
Yes, you are weclome to use AfterPay, ZipPay and ZipMoney to pay for your new recliner chair.
Do you deliver interstate?
Yes, we deliver interstate on weekly basis. Please enquire via phone or e-mail for details.
Stressless Metro Office chair with High Back
Stressless Metro Office Chair has a retro-modern design, with all the Stressless comfort you've come to expect.
This design is available with three different back heights: Low back, High back and with adjustable headrest (+ 10 cm). The wheels on the base make it easy to move around, and there is a lever for height adjustment
Features and Benefits:
Patented Stressless® Plus system automatically adjusts the headrest as you recline, supporting your neck while reading, watching TV and resting.
Patented Glide System enables the recliner to move effortlessly with each body movement, providing perfect comfort and support with no buttons or levers to pull.
Anatomically correct lumbar support in all positions synchronises with the neck support function for ultimate comfort.
Steel Frame Construction, 100% made in Norway, features flexo springs, designed to provide the maximum in comfort and function.
Comfort Zones gives you a better seating comfort, as the indentations let you sink deeper into the seat and back of the recliner.
Elegant Lever allows for an easy height adjustment.
---
Dimensions:
80cm (W) x 70cm (D) x 122-129cm (H)

Luxury of Stressless
Enjoy the recliner chair made by the world leader in manufacturing luxurious furniture.
morestrictly
Stressless has been innovating and perfecting comfort for over 85 years.

Endorsed by ACA
Stressless Recliner chairs are exclusively endorsed by Australian Chiropractor Association, ensuring outstanding support for your back.
morestrictly
With its unique Plus System, Stressless recliners provide lumbar and neck support that automatically adjusts as you recline .

Made in Norway
Stressless furniture is skilfully crafted in Norway using the highest quality materials.
morestrictly
Stressless manufacturing utilises environmentally sustainable processes and a combination of a highly skilled workforce and state-of-the-art technology.

Built to Last
Stressless recliner chairs are backed by a 10 year guarantee of internal mechanism and 5 year guarantee on electrical parts.
morestrictly
This ensures that your recliner chair will withstand the pressure of everyday use and provide you sustained comfort and support for years to come.
Whist this recliner chair comes in standard sizes, each model has different dimensions.
Visit our showroom to find the model and size to suit you best.
Select Leather
see it in person
leather swatches are available in store
Imagine the Possibilities
Same product - different look
Close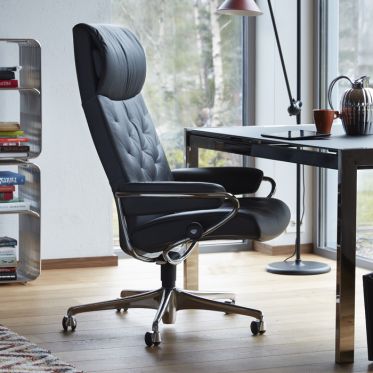 * cushions & accessories are sold separately